Placing your account on hold will pause your Hulu subscription for up to 12 weeks.
This is a great option if you know you will not be using your account for a little while (like a summer vacation, business trip, etc.). Placing your account on hold will take effect on your next billing cycle going forward.
Please note that during the hold period, you will still be able to log in to Hulu.com, but the account will operate just like a free, commercial-supported Hulu.com account. The additional Hulu subscription content, Premium Add-Ons (such as SHOWTIME®) and device access will not be available.
To place your Hulu subscription on hold:
1. Click on the Account link or visit hulu.com/account
2. Locate the Your Subscription section on the right-hand side
3. Click Put Subscription on Hold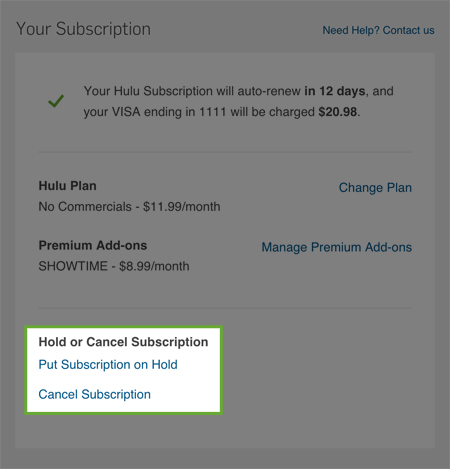 4. Set the duration
5. Click Submit
You can place your account on hold up to three times in any three-month period. This is to help ensure the feature is only used when an account will be inactive for an extended length of time. Your Hulu subscription will be re-activated automatically after the specified duration and your credit card will be charged for the monthly subscription. The date your account is reactivated will be your billing date going forward. You can visit your account page and re-activate your subscription at any time.
Note that accounts billed through either iTunes or Amazon will not have the ability to place an account on hold.