Autoplay can be turned off directly on the Hulu.com video player (under the gear setting) or after video playback during the autoplay notification.
---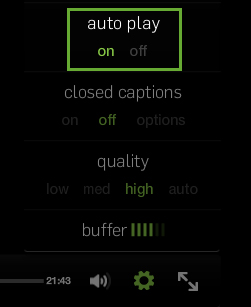 Turn off/on autoplay on Hulu.com
There are two ways to enable or disable autoplay on the Hulu.com website.
One method is to access it from the site player itself. During playback, move your mouse around on the player to bring up the control panel. Click on the Gear icon and you'll see a pop-menu with several options, including Auto Play. Choose either On or Off, depending on the setting you prefer.
At the end of every video you watch on Hulu.com, there will also be a Pause option. If you click this, Auto Play will be turned off for the next video.
---
Turn off/on autoplay on a mobile device
iOS – iPhone, iPod touch and iPad
To turn on or off autoplay on your iOS device: Select the menu

icon, followed by the gear

. Then select Settings to access the autoplay functionality.
Android phone and tablet
1. Tap the menu

icon at the top left of the Hulu app
2. Select the Settings option
3. Toggle on or off Autoplay

---
Turn off/on autoplay on a living room or TV device
To turn off and on Autoplay for all content, navigate to the Settings section from the main screen of the Hulu app.
Turn off/on autoplay during video playback
1. While a video is playing, press the down option on your remote or controller
2. Then press the up option on your remote or controller to reveal the playback settings menu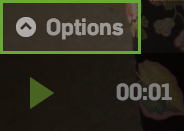 3. Navigate over to Autoplay and press the select/OK/Enter button on your remote or controller to toggle the autoplay setting