Touch gestures with Windows 8 and 10 are a great way to quickly get the most out of the Hulu app on your Windows device.
Below are some ways to navigate the Hulu application on your Windows device:
Where are the menu options and app settings?
While in the Hulu app, tap the menu

button at the top-left of your screen. From here, you can navigate through Hulu categories (TV, movies, Queue, Watchlist), as well as access your Hulu captions and account settings.
To access Widows settings, starting at the screen border, swipe from the right to pull up the Action Center menu. From here, you can adjust universal Windows settings such as screen orientation.
How do I access show information to Favorite and add to my Queue?
To access specific video or show information, tap and hold a video's thumbnail. This will pop up a menu at the bottom of the screen with specific show or video information. Here you can add videos to your Queue (or Watchlist) and Pin your favorites to the Start menu.

To Favorite a show, search for your show with the magnifying glass icon. From here, you can access the Favorite (or Watchlist) button from the show's main page.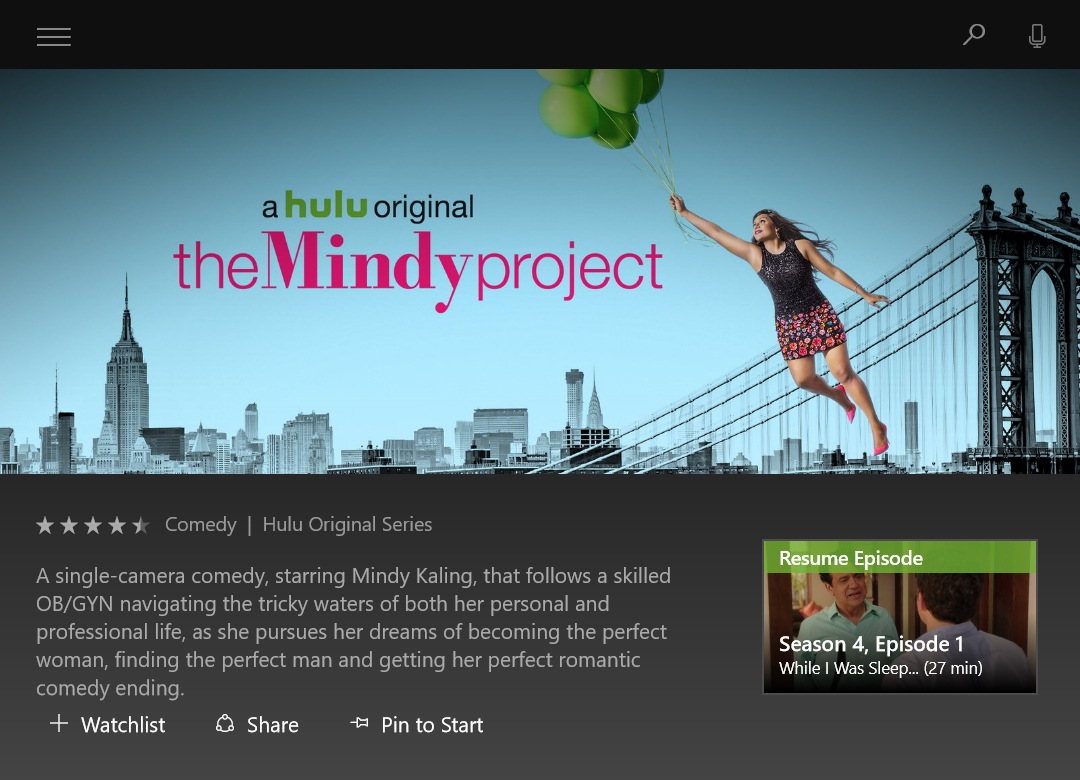 How do I fully close Hulu?
While in Hulu, swipe from the border at the top of your device to the bottom of the screen. This will fully close out the app so that it's not running in the background. Fully closing the application will not log you out of Hulu.
Can I use Hulu in split screen?
Yes. While in the Hulu app, starting from the screen border, swipe slowly from left to right to grab another running application. From there, release the application into place next to Hulu. You can now use both applications at the same time. You can also designate the size of each app with the middle bar separating the two.
* The split screen feature is not available on all devices.