To activate your TV-connected device, you can log in with your email address and password or use the activation code at hulu.com/activate – both will get you set up.
We understand how important and exciting it is to be able to watch your favorite Hulu shows from the comfort of your living room. If you're not seeing a Hulu application, head to our Supported Devices page to make sure that you have a Hulu-enabled device. On some supported devices, you may need to download Hulu first.
If you've already located a Hulu icon, there are two ways you can activate your device to the Hulu application in order to start using the service:
Activate Using the On-Screen Keyboard
1. From the main screen of the application, select Log In
2. Use the on-screen keyboard to enter your email address and password tied to your Hulu subscription
3. Then move the cursor down, and select Login. This device will now be activated on your account (hulu.com/account).
Or, you can activate your supported device on Hulu.com
1. From the main screen of the application, select Log in to Hulu
2. You will then see an alphanumeric Device Activation Code (for example, 6K47J3)
3. Using a standard web browser, navigate to hulu.com/activate (and sign in, if prompted)
4. Enter the device code displayed on your TV screen and click Activate
5. Within about 30 seconds, your device will be automatically logged in to your Hulu account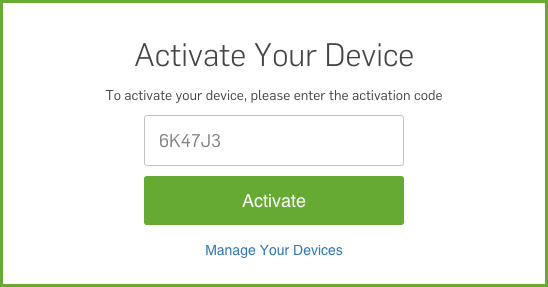 * Please note that the Hulu applications on Apple TV and mobile devices do not have an activation code. To access our application, log in with your email address and password – This will activate your device. For more information about logging in on your Apple TV, head to our Getting Started on Apple TV help article.