Hulu is proud to offer a wide variety of content, but unfortunately, we do not have the rights for every show and every network.
While we are always working on adding new content, if there's a show out there we don't offer, we want to help you find it. Our search engine is designed to scour the web for reliable sources to watch content, both on Hulu and off.
I'm searching for a show or movie, but I can't find it on Hulu
We may not have the streaming rights for this show or movie. If you search for a show, like MasterChef, you will see how many episodes and clips are available to stream, along with device availability. When you search for a show that we don't offer through either the free Hulu service or a paid Hulu subscription, we do our best to help you find another way to watch it.
Why am I only finding 5 episodes of a show?
With many shows on Hulu, we are able to offer the 5 most recently-aired episodes. The variation in show availability on Hulu is due to the different types of contracts that we have in place with our content providers. In this instance, the owners of a certain show have opted to allow their current-season episodes available on a "rolling basis." This means that Hulu will have a certain number of current-season episodes at a time. Once 5 episodes are posted, we will remove the oldest episode each time we add a newer one. This can sometimes include re-runs, which may mean the episodes aren't always in order.
Add these shows to your Watchlist to keep track of new episodes that have been added to Hulu.
To learn how many episodes of a show are available, visit a show's main page (hulu.com/new-girl).

Why does my search for a show lead me to another website?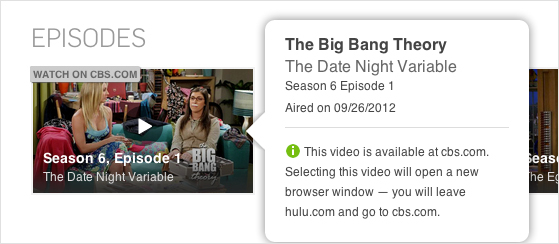 Often times, a show may not be available to stream on Hulu, but is through another source. If our search engine finds a relevant clip or episode, we'll provide a link to an external website where you can watch your show.
These episode or clip thumbnails are also marked with a grey bar that shows where you are able to watch the video off of Hulu.
Why can't I see these shows on my device?
If our site search feature redirects you to an external website to watch your show, this means we do not have the streaming rights for that particular piece of content. From the Hulu app on your device, we unfortunately cannot offer this feature as we do not own the proper licenses. For more information about what shows are available to watch on your device, visit this help article.