With Hulu's profiles, everyone at home can have a personalized experience by creating their individual profiles – each with their own information, viewing history, recommendations, and Watchlist.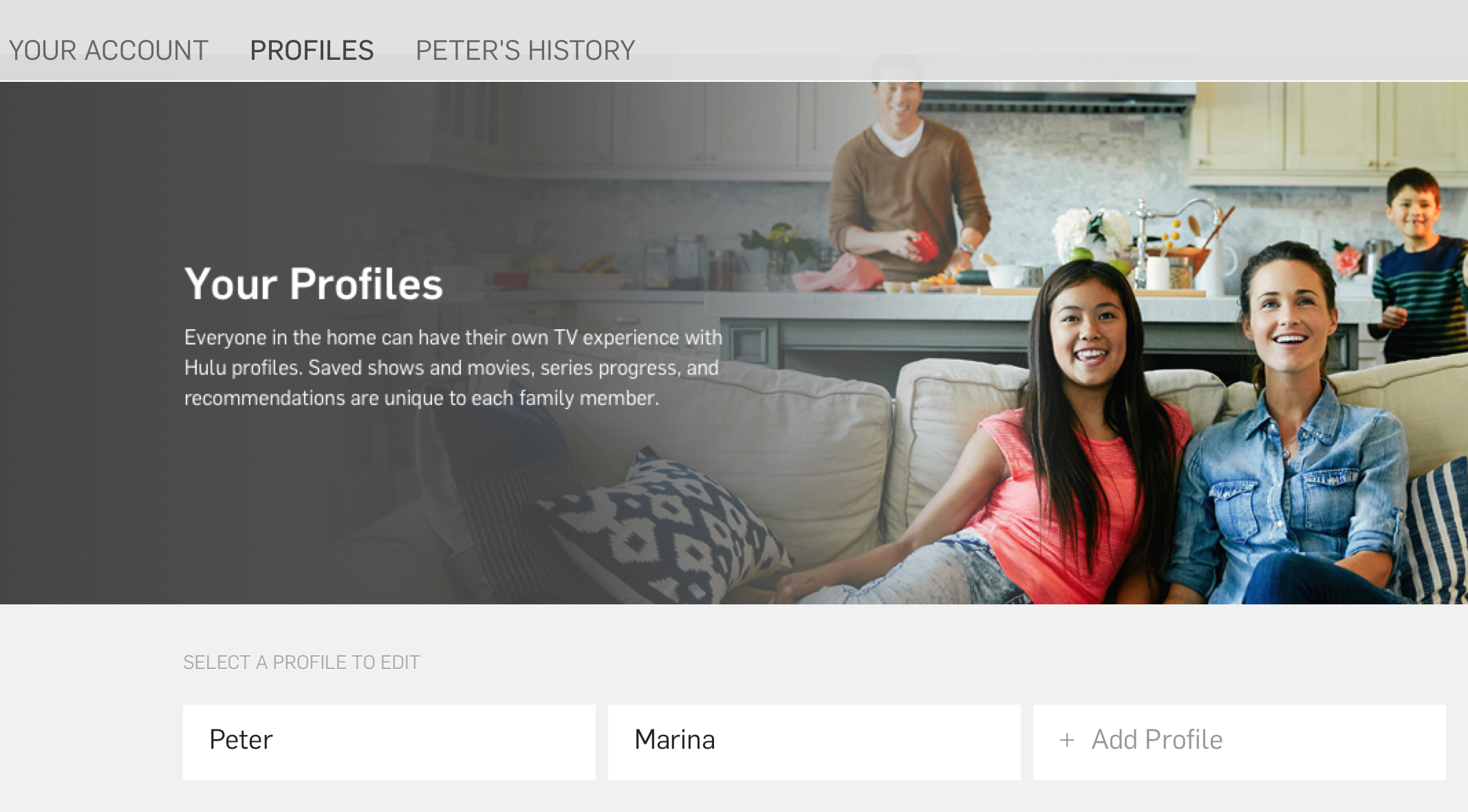 ---
What are the benefits of profiles?
Creating individual profiles enable you to keep track of all of your favorite shows and movies regardless of what other viewers in your household watch. Each profile created within the same Hulu account will have its own personalized Watchlist, recommendations, and viewing history, allowing everyone to get the most out of their Hulu experience.
You can also create profiles for your kids, where families can go to watch kid-friendly content without worrying about mature shows or movies being recommended to them.
What is a Kids profile?
When adding a new profile, you'll have the option to create it as a Kids profile, which will feature only the family-friendly content found in Hulu Kids.
While Kids profiles aren't meant to be parental controls, they are a place for parents to browse Hulu with their children without accidentally running into mature content. A user with a Kids profile won't be able to access Watchlist, search, recommendations, and auto-resume functions.
I have 4 different profiles, but only one of us can watch at a time! What gives?
Our license agreements for our content allow for one stream per account, so you can use your Hulu subscription on as many devices as you please, but you can only stream to one of them at a time.
On which devices can I access Hulu's profiles?
Hulu.com

through a Mac or PC browser

Apple iPhone and iPad

Android phones and tablets

Apple TV (2nd and 3rd generation)

Chromecast

PlayStation 3

PlayStation 4

Xbox One

Xbox 360
How to use profiles
---
How do I create a profile?
We'll use the name and other information on your account to create the first profile for you automatically. Then, you can create additional profiles – up to 6 in total.

To add a new profile:
On Hulu.com – You can create a new profile from the Profiles menu on your account page or by hovering over the profile name and selecting Add Profile from the drop down menu.

TV and living room devices – Select Add a Profile on the welcome screen, or navigate to your account page, select Manage Profiles and then click on Add a Profile.



How do I switch profiles?
How do I edit a profile?
How do I delete a profile?
There are two restrictions that you should keep in mind:

You can't delete your primary account profile.

Deleting is a one-way action! You can't recover a deleted profile.

To delete a profile:

On Hulu.com – Go to your account page and select the Profiles tab, or click or hover over the account name to display the Profiles option. Then, select the profile you want to delete and in the Edit Profile pop-up window, select Delete Profile and confirm your choice.
TV and living room devices – Navigate to your account page, select Manage Profiles and then choose the profile you want to edit. Once you see the Edit Profile screen, select Profile information and then click on Delete.



I'm having trouble adding/deleting a profile. Are there any limitations?
You can have up to six total profiles. Hulu uses the name and other personal information on the account to automatically create the first one for you – and then you can create five additional profiles.
While your primary account profile cannot be deleted, you can edit the profile name, gender, and even clear your viewing history if you want to start fresh.